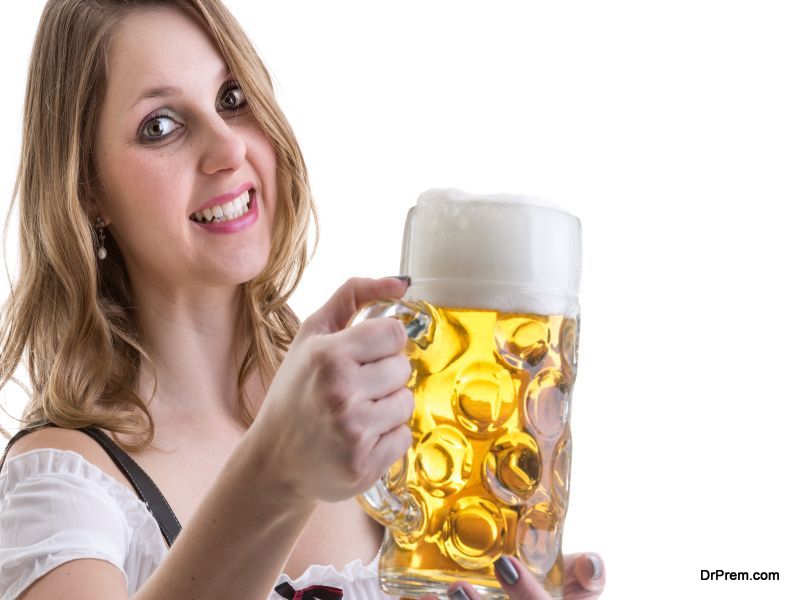 You must have heard about various health benefits of beer . However, not many people know that beer offers some incredible beauty benefits too. Rich in B vitamins, saccharides, hops, and yeast, this alcoholic beverage has some amazing skin care and hair care properties. Here are the ways you can use beer to get rid of your skin and hair problems.
As an Anti-Ageing Agent
Being an excellent resource of antioxidants, beer serves as a fantastic anti-ageing agent for our skin. It makes skin healthy and good looking by making skin cells free of inflammatory substances. It is one great way to escape the negative effects of premature aging.
For treating acne
For acne prone skin, beer can do a lot. Since it has anti-bacterial properties, it fights acne and a number of other skin infections. Therefore, make this miraculous liquid a part of your skin care routine to see its effective results.
To balance skin pH
Our skin has to have a correct pH level for beautiful shine and radiance. An imbalanced pH level of skin can lead to dry or oily skins that have their own problems. You can use beer to get rid of this problem, as it is a good pH balancer that effectively keeps the acid-base level normal.
Beer Bubble Bath
If you desire to experience skin and hair benefits of beer altogether, you can opt for a beer bubble bath for yourself. It is an expensive idea but absolutely worth going for as it offers great beauty benefits.
To add volume to your hair
Washing hair with beer makes them fluffy and bouncy, making them appear dense. Therefore, if you constantly try to find ways that can add volume to your hair, you can try conditioning your hair with beer.
As an Effective Detoxifier
Formation of toxic materials in our body gives rise to a number of skin problems that we face. Detoxifying body enables us to get rid of such skin problems. Out of the many ways that help detoxify the body, beer intake is one. A great detoxifier that flushes toxins out of our body beer, also makes our skin healthy and naturally glowing.
To soak your feet
If you want to relax your tired feet or simply desire to soak them for removing dead skin, try soaking your feet in beer mixed with warm water. It will effectively remove the upper dead skin and will leave your feet smooth and beautiful.
For moisturizing your skin
Beer is being used for deeply moisturizing skin since the ancient Egyptian era. By inducing moisture into our skin cells, it hydrates our skin. In addition, to this, beer helps maintain the water balance of skin that is essential for restoring natural moisture of the skin.
As a skin pore cleanser
For a clear, toned, and acne free skin, our skin pores should be clean. Beer has a great potential when it comes to clean skin pores by removing dirt, bacteria, and other impurities out of them.
Beer, almond extract, and egg white face mask
Mix a tablespoon of beer, two drops of almond extract and an egg. Wash your face nicely first and then apply the above mixture on your face. This facemask removes all dirt and tiredness from the face.
Beer and onion hair pack
To restrict your hair fall, start washing your hair with a mix of beer and onion juice. Both the ingredients work wonders to make our hair healthy and strong.
Summary
Beer offers some amazing beauty benefits. Using it on skin and hair, one can get rid of a number of skin and hair problems.