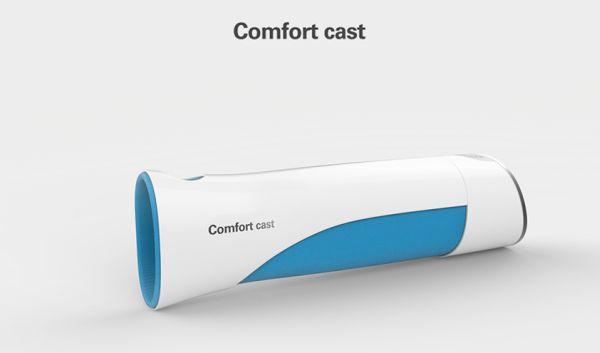 A broken limb covered with a plaster becomes a hindrance, as it restricts limb movement, makes life boring and makes people depressed. Designer Kyuho Song who is known for his out of the box ideas has this time come up with a brand new concept of a cast design for broken arms – the Comfort Cast.
The Comfort Cast
A broken limb all of a sudden restricts your movement, makes your life boring, and some people start feeling depressed as well. The traditional cast design had nothing cool about it except for the messages your loved ones or friends could write on it. However, the Comfort Cast concept is so new and exciting and is adept at making you forget that you have a broken limb. In other words, it has such features that can console people with broken limbs and offers them so much that keep them busy and happy.
The Comfort Cast is a combination of so many features such as the air pressure system. You can adjust the air pressure in accordance with your arm recovering status. The plastic caster comes in three different lengths and size, making it suitable for different arm lengths. You can see a hold hole to insert a strap in the plastic caster, so that it stays in place and you feel comfortable with it on your arm.
What makes Comfort Cast interesting for the wearer is its e-ink display. They can read consoling messages, or fun messages from their social networking sites on it, which obviously will work as a great mood elevator for the wearer. Not just messages from your family and friends but the display will remind you about your appointments with the doctor. The e-ink display uses ink capsules that respond to electric signals.
Unlike many cell phones and laptops, the Comfort Cast's display remains very clear and visible under sunlight as well. According to Kyuho Song, the use of electronic ink was the best option for a medical device like Comfort Cast. This is because it does not generate any electromagnetic waves, and as there is no LED backlight, looking at it does not fatigue the wearer's eyes.
Comfort Cast by Kyuho Song is a very innovative and an improved version of a traditional plaster cast. The wearer can be happy and busy reading messages on it, and doctors can monitor their status even remotely as well.
Source : Behance.Net