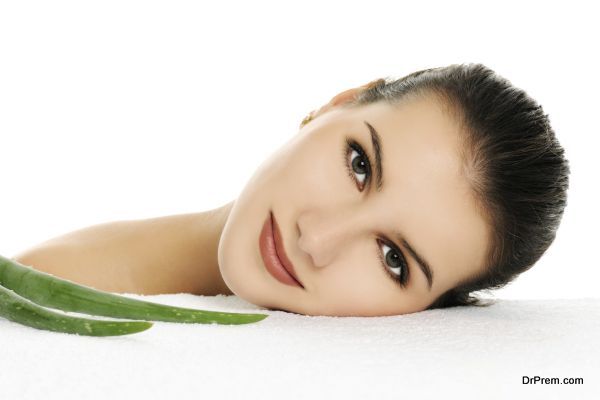 You must have heard that Aloe Vera is a magical plant, it has many beauty and health benefits but you do not know what those benefits actually are. Well, you need not worry, as we have brought for you the benefit list of Aloe Vera, which you can consider and bring to use in order to maintain your own health and beauty while being natural.
Eases cold and cough
Aloe Vera has some stupendous anti-bacterial and anti-viral properties, which make it one superb formula that you can use to relieve your cough and cold symptoms. Take one leaf, slit open and scoop out its gel. Heat the gel in a pan on slow heat and consume it once it gets cold.
Perfect makeup remover
Makeup removers you generally use are loaded with chemicals that leave your skin dry and dull. You can use aloe vera gel as a makeup cleaner, and it will leave your skin rejuvenated and shining as never before and unlike chemical makeup removers.
Cures gum problems
Aloe Vera gel or powder you can use to keep away all sorts of gum problems. Drink aloe vera gel everyday to regulate your mouth's health and keep your teeth strong and healthy. Sprinkle some aloe vera powder onto your brush every morning and brush your teeth with it. All this happens owing to the anti-microbial and anti-bacterial properties of aloe vera.
Use it for insects bite
The anti-inflammatory properties of Aloe Vera make it an ideal solution to keep skin irritation caused by insect bites at bay. Rub a piece of it onto the affected area and you will at once feel its soothing effect taking away all the irritation and discomfort caused by an insect bite.
Promotes digestive health
You cannot get rid of ailments if your digestive system is not working properly, and one fantastic way to maintain your digestive health is to consume aloe vera gel. Aloe Vera contains enzymes like lipase and amylase that help break down sugars, starches and fats in foods that you eat, thus, enabling proper digestion and bowel movement.
Hair growth
You can eat it or apply it as a hair mask to ensure healthy and shining hair. Aloe Vera has loads of vitamins and amino acids that play an integral role to support your hair health.
Aloe Vera can be put to a wide assortment of usage owing to its so many health benefits. It gives a soothing and a rejuvenating effect to your skin, its consumption deals with diabetes, is good for your eyes, fights skin tan, and many more.