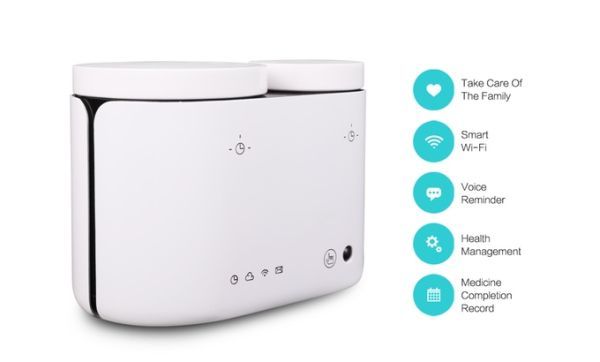 VV-Box is a smart container equipped with infrared sensors and Wi-Fi that is designed to keep track of the medication and supplement intake of your loved ones when you are not at home. It ensures your loved ones take medicines on time even when they themselves forget, as it sends them voice message reminders via VV-BOX app.
Targets forgetful health seekers
Nova Zheng is the co-founder of VV-BOX and owes creation of this device to his parents. He brought few medicines and health supplements for his parents that they were supposed to take on a regular basis. His parents only took those supplements occasionally because of forgetfulness, and being busy, he was not able to remind his parents every day.
This motivated him to come up with a device that could remind people to take medicine on time and does not allow forgetfulness interfere with the health of any health seeker. He and his partners came up with VV-BOX that enables our loved ones stay healthy and connected.
How it works
VV-BOX has been designed to store normal sized medication bottles and health supplements. Place them in its compartments, set a reminder, and an audio message will automatically start playing whenever it is time to take medicines. Installing VV-BOX app on your Smartphone allows you to keep a track on medication routine of your old parents at home, without worrying anymore for their health.
Easy to use
You feel your parents cannot use apps and all, do not worry as they are supposed to use the hard ware. They just have to press a button on the VV-BOX to use it. The motion sensor inside detects someone crossing it, so it automatically starts playing audio messages.
Personalized care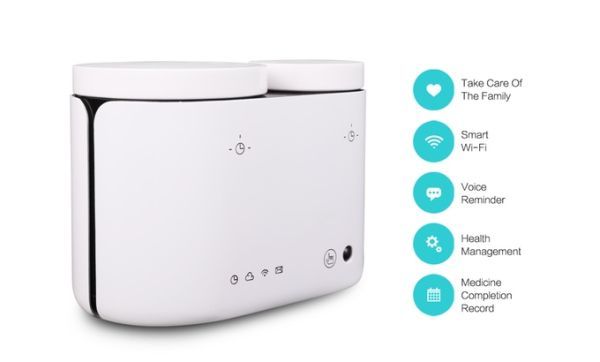 Your business or job keeps you so busy that you hardly get any time in the entire day to call up your parents back at home. VV-BOX enables you to offer personalized care to them a bit differently, as it allows you to record customized voice reminders for your loved ones. You can record a sweet greeting or a reminder regarding their medication and send across to make them feel good.
Besides care, VV-BOX enables you to ensure your loved are at the pink of health because they are having their medicines on time. It also prevents your money wastage, as it happens when your loved ones fail to consume those expensive health supplements.
VV-BOX is a smart box designed for forgetful health seekers. It reminds them to have their medicine and health supplements on time.
Source : KickStarter.Com