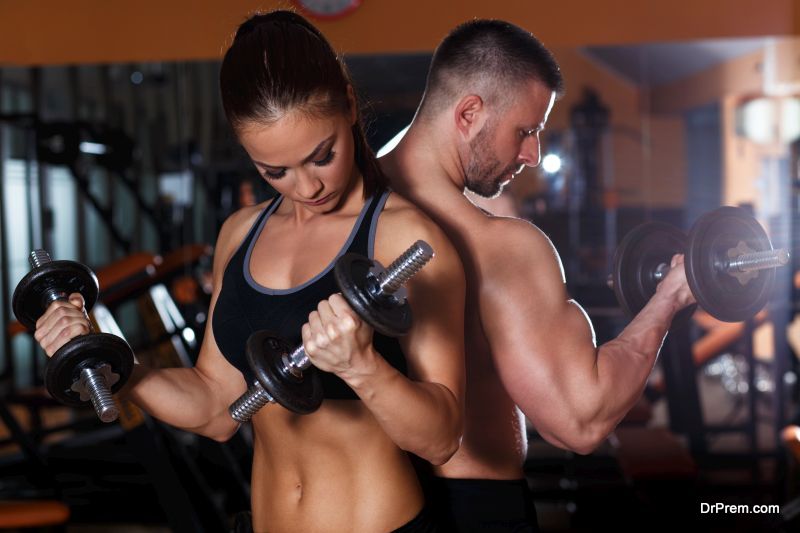 When you first start using the gym, it can feel like a dream come true – plenty of machines to try out, motivation from friends and family who either support you or tag along for a workout with you, and that great feeling of accomplishment when you start shedding pounds and becoming healthier and more fit.
However, if you have been using the gym for a long time and are starting to feel drained, or if you are trying to keep a resolution to yourself and start working out more by joining a gym, you may be looking for some tips to help get you jump started and motivated, even if you are a beginner.
1. Make yourself a few new playlists.
Whether you still have a portable CD player or the newest smartphone, creating yourself playlists for the gym is a great way to get motivated. Making a few different playlists with your favorite tunes, especially for different moods (we all have days when we feel accomplished, and others when we feel kind of laid back) can really get you more motivated for working out. Maybe you'd like a faster-paced music selection to get you in the right mindset on a Monday morning, or instead choose a more soft rock selection for those days when light stretching or a slow walk on the treadmill sounds more appealing.
2. Treat yourself to new gym clothes.
Purchasing yourself some new gym clothes like Compression shirts can really make you feel motivated. The thought of dressing yourself in something brand new before heading off to the gym can help get you in a great headspace – especially if you find something that looks great on you! Gymshark.com offers a lot of different options – from jogging clothes to jackets to yoga outfits – everything you need to get comfortable and stay stylish while working out. The clothing is moderately priced, making it an affordable addition to your gym routine! You can save on your new workout clothes with the newest Gymshark coupon code.
3. Try new gym machines or workouts.
If you are starting to feel as though you are in a bit of a slump, try adding some new workouts to amp up your routine. Try taking a dance class or a martial arts class, or step out of your comfort zone and try out a new machine that you haven't used yet. Changing your game can also help build new muscles, too.
4. Find a gym buddy.
If you've been heading to the gym alone and you're starting to feel a lack of motivation, find yourself a gym partner to take with you. Together, you both can tackle new exercises and help each other through tough spots. Your partner can help encourage you to visit the gym if you are trying to get out of it, and they can also help to make sure you don't have someone to disappoint if you decide to skip a few days.
5. Allow yourself praise.
If you have been working out a lot and have been noticing progress, don't feel guilty about talking about it or being happy. Take photos, celebrate with your gym partner or those who are supporting you – either way, make sure to acknowledge when you feel good about your working out. It's important to stay positive, and let's face it – it feels good to show off what you've been working hard for!
Article Submitted By Community Writer