Whether you are simply after a leisurely activity for a Sunday afternoon or you are looking for interesting scenery to accompany triathlon training, London has a wealth of unique cycle routes. Criss-crossing the city in all directions there is a route to suit every interest and every taste.
For a start, cycling is possible in most parks across London – including some of those managed by the Royal Parks. Do make sure you familiarise yourself with the rules and regulations at each park though – some may have restricted areas for cycling. The Royal Parks – whose responsibilities include Hyde Park, Richmond Park and The Regent's Park – displays a Considerate Cycling guide on its website as part of its Pathway Code of Conduct, and much of this applies to cycling wherever you may be. The key points are to be considerate, to be safe, to be seen and heard, to be polite and – particularly where parks are concerned – to stay on track.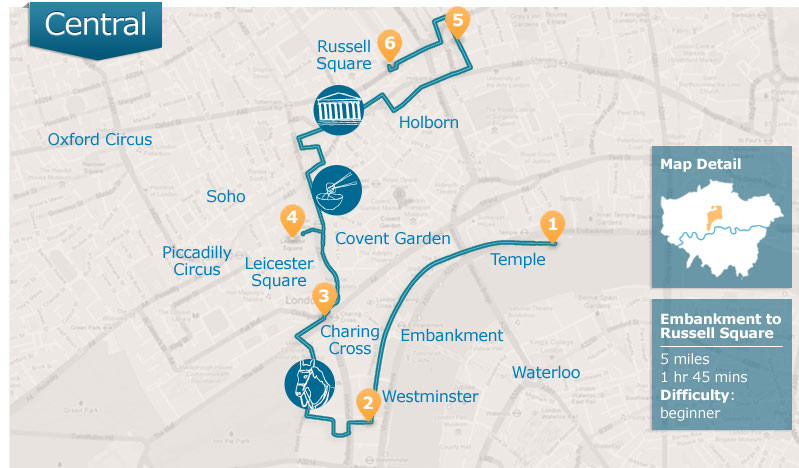 Transport for London suggests a variety of leisure routes that can be taken around town. The West London route is an attractive circuit away from the hustle and bustle on the Tamsin Trail in Richmond Park. In Central London follow Regents Canal, taking in Little Venice, Regents Park, Camden Lock Market and Broadway Market. One of the North London routes is one for the triathletes, as it proposes a cycle and swim at Hampstead Heath – TfL suggest packing a picnic for this one too. Another route in the north of the city might help those triathletes familiarise themselves with the Docklands setting of the London Triathlon too – cycle from London Docklands to Lee Valley Park via Greenwich, Canary Wharf, Walthamstow Nature Reserve and the Regents Canal towpaths. In the south west of the city is the Wandle Trail from the Thames to Croydon – this is an off-road route along the River Wandle, with pocket parks and National Trust properties to be seen along the way. And last but not least in the south east you can cycle the Waterlink Way from Cutty Sark to Cator Park. The old naval college and of course the Cutty Sark itself are among the landmarks to be seen on this route.
With inspiration from the London Cyclist blog, TfL's website also has proposed routes and itineraries for some more quirky and themed cycles around the capital. More helpful still, the maps show the locations of all Barclays Cycle Hire docking stations throughout these routes – ideal for those who don't own a bike but want to get a piece of the action…
One such suggestion is to explore some of London's independent shops and markets, which can be done in around 47 minutes within a distance of approximately 4.8 miles. Start at Camden Market, where you can browse the designer and vintage fashions, but don't go too crazy – cycling with a dozen shopping bags isn't recommended! Carry on through Camden Passage and into Exmouth Market, and if you've worked up an appetite by now try some traditional pie and mash from one of the many food stalls. Proceed to Spitalfields and if you resisted the urge to eat at Exmouth Market then you're in for a treat at the final destination – Brick Lane and its plethora of inexpensive ethnic eateries, including bagel shops and curry houses.
Other London Cyclist routes to try include "Quirky London", which includes visits to Cross Bones Graveyard and the Statue of the Golden Boy, and "London's Secret Gardens". Here the beautiful Holland Park and Kyoto Japanese Garden are among the sights to behold.
For further information on London cycling routes visit www.tfl.gov.uk and www.londoncyclist.co.uk