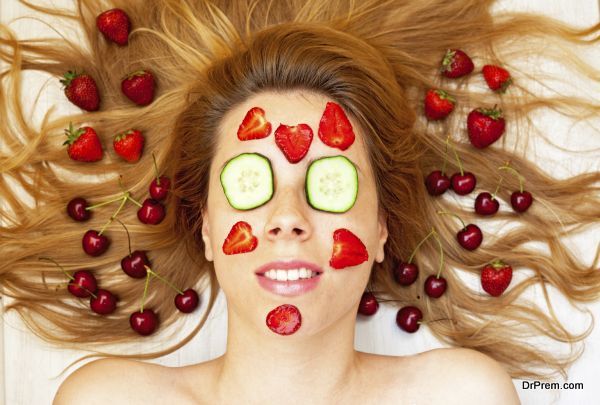 Those fruits and veggies you love to have can do wonders for your skin as well. Edible facemasks made from fruits and vegetables leave our skin shinier, healthier, and younger than ever before. Besides their skin benefits, DIY food facials are easy to make, which means you need not spend money on parlor visits for facials, rather prepare an edible mask or scrub yourself and pamper your skin at home.
Pomegranate Scrub
Pomegranate seeds are loaded with antioxidants, anti-aging compounds and vitamin C, which makes them super beneficial for the skin health. The seeds make a superb exfoliating scrub that takes away dead skin cells leaving your skin smooth and shiny. You need to grind two tablespoons of pomegranate seeds and uncooked oatmeal, then take the mixture in a bowl and add some buttermilk and honey to it. Apply onto your face, leave it for some time, and then rinse.
Strawberry Mask
Loaded with anti-aging compounds and vitamin C, a strawberry mask helps fight skin radicals that are deadly for skin cells and the collagen production. To make this mask you can use raspberries and blueberries also if you want. Blend berries in a processor and mix honey and yogurt to it. Apply the smoothie like mixture onto your face at least twice a week and see the difference.
Honey Mask
Honey moisturizes skin, as it helps retain moisture, thus, making it smooth and firm. Honey mask is the easiest to make, as you only have to heat it a bit over low heat, and then apply on your face. Leave it for 15 minutes and then wash with cold water.
Pumpkin
Pumpkin is one vegetable that has loads of anti-aging compounds, antioxidants, vitamin A and C. Grind and blend inside of pumpkin with some honey and low fat vanilla yogurt and apply on face, leave, and rinse off thoroughly. This facemask hydrates skin, makes it glow, and softens it.
Cabbage Mask
Make a paste of cabbage leaves, mix some rice flour and almond/olive oil in it. Ones with oily skin should avoid adding olive or almond oil to the paste, and can add egg white if they want. Apply, leave it to dry, and then wash off with lukewarm water.
There is dearth of women splurging on facial treatments at parlors every other day but you need not do the same, as you can get shinier, and younger looking skin at home only with the help of some edible facial masks.