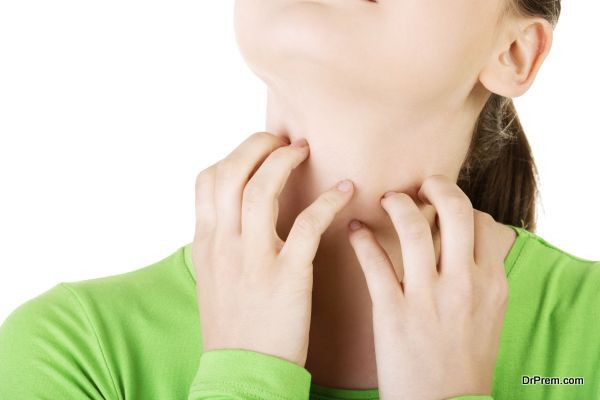 Itchy skin, we all experience it at some point or the other, and depending upon its severity, it can be extremely annoying. Allergies, infections, dryness, soaps, chemicals, and weather are some of the causes responsible for itchy skin condition. Whatever be the reason responsible for your skin condition, you can get the hang of some of the following home remedies and escape from the claws of itchy skin.
Petroleum Jelly
A safe and an inexpensive solution that cures itchy irritated skin is petroleum jelly. It is beneficial especially for the ones who have sensitive skin. A simple application of it on the skin leaves it itch free and hydrated owing to its natural smoothening action.
Coconut Oil
Coconut seems to be the Holy Grail when it comes to curing so many skin conditions. It can work wonders to cure your itchy skin, just rub it onto the affected area and see how quickly it relieves skin irritation. It is good to give your whole body a coconut oil massage every once in a while, as it helps keep numerous skin troubles at bay.
Clay Pack
Virgin clay or the Green clay we call it is an extremely helpful product that cures itchy skin and many other skin issues so effectively. Mix some water to Green clay to form a thick paste and just dab it all over the irritated skin. Wash it off once it dries.
Apple Cider Vinegar
We cannot praise apple cider vinegar enough for offering us all such immense health benefits. Its antiseptic, anti-bacterial, and anti-fungal properties make it something that helps relieve itchy skin. Use organic ACV, dab it with a cotton ball over the itchy skin area, or add some to your bathtub. It is also helpful to cure itchy skin and dandruff in your pets.
Fish and Flaxseed Oil
Fish and flaxseed oil come handy when you need to treat your itchy and irritated skin. They contain essential fatty acids that play an integral role to keep our skin well hydrated and to prevent any kind of damage caused by pollution, sunburn, or other elements in the environment.
Baking Soda
Baking soda is the best thing than cures itchy skin fast provided there are no open wounds or cracks on your skin. Baking soda has some superb anti-inflammatory properties that give a soothing effect to the itchy irritated skin. You can mix it to your bathing water, or prepare a paste with three-tablespoon baking soda and one-tablespoon water, and apply it over itchy patches.
Itchy skin calls for a lot of scratching that does bring momentary relief but some wounds and infections as well. One must try some home remedies to cure itchy skin condition, as they are effective and have no side effects on your skin.